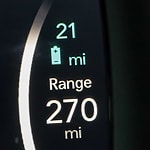 The Chrysler Pacifica Hybrid is a popular minivan for all kinds of reasons. This is an award-winning minivan that suits all your needs for passenger riding and cargo hauling. One of the main attractions provided by the minivan is the fuel economy.
You may think you have to have a small vehicle in order to attain mileage worth bragging about. With the Pacifica Hybrid, you can have fuel efficiency that approaches 82 MPG and still carry your 6 best friends with you. Furthermore, the minivan switches from the electric motor to gas with ease. When you use both the electric motor and the gas engine, you can score a driving range of up to 520 miles.
When you are serious about fuel efficiency, but your lifestyle won't let you drive a small vehicle, consider the Chrysler Pacifica Hybrid minivan. We invite you to come by Poway Chrysler Jeep Dodge Ram in Poway, CA this week, and take a Pacifica for a test drive.